Mey Village Hall Project - News and Events at Mey Village Hall, Caithness
All Dressed Up For The Big Day!
Mey Hall recently hosted a wedding reception for which the families involved opted to dress up the hall.  The result was stunning and shows what can be achieved with time and effort.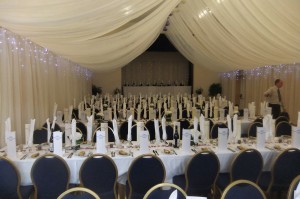 They also erected a marquee at the front of the Hall, in which we provided a bar and staff throughout the day.  And, another marquee to the rear, to assist the caterers. Catering for the 136 guests was provided by Castletown Hotel, who also provided waiting staff.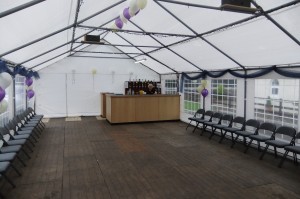 Further guests arrived for the evening dance with music provided by Whisky.  All in all a very successful day. 
If you would like to hold your big event at Mey Hall just get in touch with Ellen Simpson on 01847 851 736 or email her ellen@ellden.co.uk
NB If you would like the Hall 'dressed' for your event, the wall / ceiling linings and lights shown above are now available to hire. Speak to Ellen.