Car Boot Sale – Sunday 29th April 2018
Mey Hall Committee is holding a fundraising Car Boot Sale on Sunday 29th April 2018 from 1pm to 4pm. Light refreshments available. To book a table please phone either Ellen on 07796 206883 or Kirsteen on 07904 403072, after 6pm.
"The Corries" – 2nd December 2017
For one night only! Come and enjoy an evening of the songs and stories to remember one of Scotland's best loved folk groups – The Corries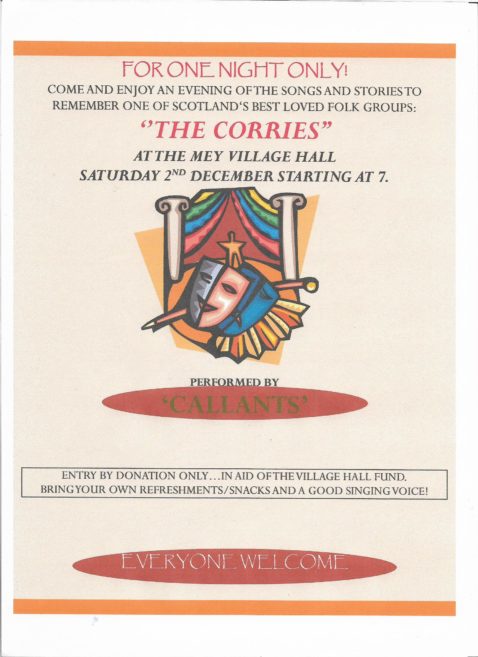 MEY HALL AGM 2017
The Mey Hall AGM will be held at the Hall on Tuesday 28 March 2017, starting at 7:30pm. All welcome.
Mey Market Update
Having had a successful summer season, the very popular Mey Market will be open between 1 and 4 pm on the following dates, leading up to Christmas:
Sunday 18 September,
Sunday 9 October and
Sunday 20 November (Xmas Special)
Mey Hall Library
Mey Hall is starting a free exchange library and would welcome donations of books, videos, games and the like. Local people may borrow these free of charge, so long as they are returned in a reasonable timescale.
Jazz In The Village
Jazz in the Village is an event not to be missed – coming to Mey Village Hall on Sunday 5 June between 4 and 6pm – starring IAN MILLAR & DOMINIC SPENCER – saxophone & piano jazz duo.
Based in Edinburgh, the duo has regularly and extensively toured Scotland. They have embarked on many rural tours, often bringing jazz for the first time to remote communities, performing in intimate settings. They have played in Northumberland, North & South Yorkshire, Cumbria, Bedfordshire and Shropshire making the occasional trip further south including a European trip to Brussels.
Tickets (£10 for adults and £4 for children) on sale in advance and door sales on the night.  E-Mail: meyvillagehall@gmail.com
Mey Ramblers
Meet at Mey Hall every Thursday at 10am for a leisurely stroll. A service bus from Thurso arrives just before we leave.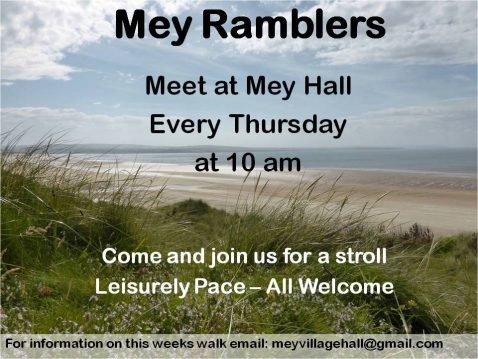 Befriending Caithness
Befriending Caithness will now be holding a regular session in Mey Hall on the third Wednesday of each month between 12 noon and 2 pm, starting on 17 February.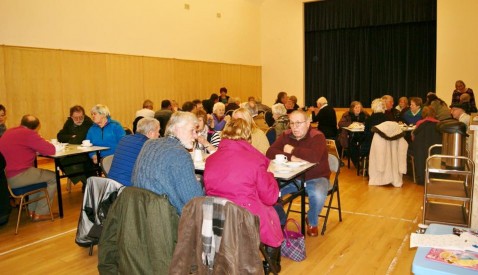 This follows on from a highly successful initial event held on 19 January, which was attended by over 50 people. They were treated to tea, sandwiches and cake and enjoyed a lively sing-along session with musician John Brotherstone.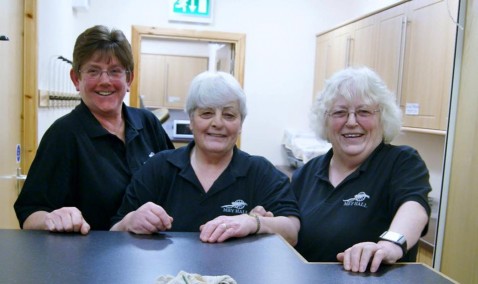 The next event, to be held on 17 February, will offer soup and sandwiches and vice-chairman Stuart Webster will provide the entertainment. All free of charge. So why not come along and see what you think. Our cheery volunteers look forward to offering you a warm welcome.
FREE Wi-Fi
Mey Hall now boasts satellite broadband and is offering FREE Wi-Fi to all Hall users.
This latest enhancement to the Hall's facilities is currently allowing us to offer remote access for someone undertaking private ballet lessons.
It will also allow us to offer computer training, in due course. Anyone interested in learning more about the Internet and it's benefits should call Peter Body on 07850 753386.
Mey Market Update
There will be two further markets this year on 15 November and 6 December between 1pm and 4pm.